Sam takes 4th position in 25th edition of prestigious Masters of F3

20th September, 2015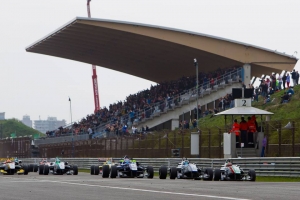 Sam took a strong 4th position finish in the prestigious Masters of F3 race at Zandvoort last weekend.
"It is great to have my best result of the season at such an important event. This is the 25th edition of the Masters of F3 race, and anyone who does well here has in the past had plenty of chances to make their way in international motorsport" said Sam.

"It is hard to overtake at Zandvoort but I gained places with strong starts in both races" he added. "I was confident coming into the weekend as I was looking forward to driving on the special Kumho tyre used in this race, which for me gives more feedback than the tyre we use in the FIA championship. Thank you to Team Motopark and my engineer Georg for giving me a car that made this possible!"