Sam shines in Historic Racing debut at Nurburgring

9th August, 2014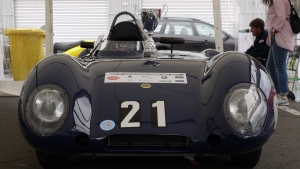 Sam made his first outing in Historic Racing in a 1956 Lotus XI at the Old Timer Grand Prix at the Nurburgring last weekend. His 1460cc Lotus lived up the giant killer reputation it had in period, qualifying 3rd overall in a field of 49 Ferraris, Mercedes. Porsches, Maseratis and many others with engines ranging up to 5 litres plus.

There was more drama at the start of the race as Sam was hit in the second corner by another competitor, and was forced to visit the pits to straighten out bent bodywork. This put him at the back of the field and with a big hill to climb, but over the next hour he did just that, overtaking 44 competitors to finish 3rd overall and an easy first in class, behind only two 5.3 litre cars in his 1.5 litre Lotus.
Sam said "This was very different to what I am used to but great fun! The Lotus handles really well but needs to be moving around all the time to get the best out of it, and to be out on this great track with all these beautiful cars around you is an experience never to forget. My mechanics Tony and Jamie did an amazing job keeping the car in action, and to get the result we did was totally unexpected both for us and everyone in the event. One to remember!"