Sam MacLeod moves up the championship order after shining at a rain soaked Sachsenring

22nd September, 2014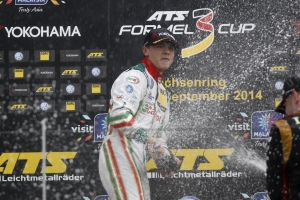 Castrol supported F3 rookie Sam MacLeod moved up into third place in the German ATS Formel 3 Cup this weekend after battling hard in wet conditions at the 3.645-km Sachsenring.

Qualifying went well, with Sam claiming a front row starting position for race 1 and taking pole position for race 3. The first race began under safety car conditions resulting from the heavy rain around the track. Sam pushed a little too hard in the opening laps under the tricky conditions and ran wide. Undeterred he fought his way back through the pack, setting fastest lap along the way.

For race 2 the track was still very slippery, but Sam made a strong start from third on the grid and was soon into the lead, pulling away decisively to build a solid gap and take the win by 11 seconds.

In race 3 on Sunday conditions were again challenging, and Sam's engine stalled just as the start lights went out. He staged a great recovery drive from the back of the grid in the wet to cross the line in second place, taking another fastest lap in the process.

Sam said, "This was a good weekend with a pole, another win, and a second place, and two fastest laps my pace in the wet was good and that in my first year I have now out qualified a veteran and champion of F3 like Markus Pommer. It could have been better; however, as I pushed too hard in the early laps of race 1 and had an issue at the start of race 3. We will learn from that"