Sam MacLeod German ATS Formula 3 Cup 2014: 3 wins, 6 fastest laps, 1 pole, 9 podiums

12th October, 2014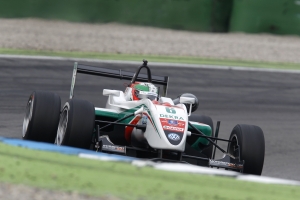 In the ATS German Formula 3 Cup, Sam headed to the Hockenheimring in Germany last week-end (4-5 Oct) to battle it out in the final round of the championship title after a superb season of close racing.

Sam was immediately on the pace, qualifying on the second row for the first race of the weekend. The Van Amersfoort driver got a good start but was struck heavily from behind by a very late braking Nikita Zlobin on the first lap, which resulted in some bruises and instant retirement for Sam, and a subsequent visit to the stewards for Zlobin. Unfortunately, damage sustained from the heavy impact in the first race seemed to carry through into race 2, when Sam's car struggled with balance issues. However by the final race of the weekend the issues were resolved and Sam performed well despite constant pressure from championship winner Markus Pommer. He crossed the line in third position to score his ninth podium of the season, also taking his sixth fastest lap award in this final ATS Formula 3 Cup outing of the year. Sam finished the season overall second in the rookie cup rankings and fourth in the driver's standings.

Sam said "The weekend was blighted by the incident in race 1 which cost me third place in the championship, but that is motor racing. I was very pleased to end the weekend and the season with another podium and fastest lap. This has been a very good debut year for me in Formula 3, with the second highest number of race wins and of fastest laps in the championship. I have shown I have the pace to win, and my focus will be to build on that in 2015"

The season is not quite over for Sam who will now focus on the upcoming Macau Formula Three Grand Prix, which takes place in China in November.