Double Podium on F3 Debut for Sam MacLeod at Oschersleben

28th April, 2014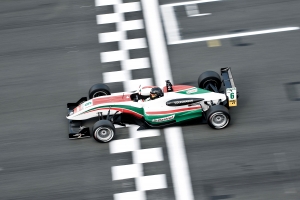 Formula Renault race winner Sam MacLeod had a great opening round to his German ATS Formula 3 Cup rookie season with two podium finishes at the season opener in Oschersleben.

After a strong showing in practice, when qualifying came round Sam took a second row starting position in fourth for the first race of the year around the 2.28 mile motorsport arena circuit in Germany.

The first race on Saturday was not very eventful but nonetheless satisfying for Castrol backed MacLeod as he cruised to a third place finish and secure his first podium of the year. The reverse grid second race on Saturday afternoon however, showcased the best overtaking move of the weekend, and it was Sam who made it as he moved through the field. Chasing two cars fighting for third place, MacLeod spotted a gap and overtook them both in one bold move to take his second podium of the weekend.

Obviously happy he commented: "It was pretty good, especially at the start. I had a bit of a struggle, but luckily everyone was racing quite hard. And with Maximilian and Markus I got a great opportunity to get two in one corner. From then on it was quite easy."

In the third and final race of the weekend from fourth place on the grid in dry, sunny conditions, affairs were processional and the Edinburgh born 19 year-old maintained his position, to cross the line in fourth. The result puts Sam fourth in the championship standings. The next race of the German F3 championship is on the 23rd – 25th of May on the Lausitzring. Sam MacLeod said, "I am pleased with my F3 debut. Our goal was to fight at the front right from the beginning and that is what we have done. I am really enjoying the grip and pace of the F3 car, and happy that we are matching the race pace of the most experienced drivers on the grid. We have learned a lot on this first weekend and looked forward to putting the lessons into practice as the season progresses "

Sam's next outing is a guest appearance at the opening round of the British F3 International Series at Rockingham on May 4-5.