CLASS OF THE FIELD IN BRITISH FORMULA 3

24th June, 2014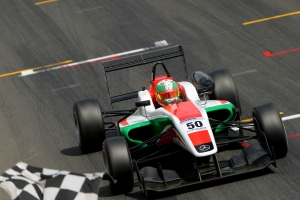 British Formula 3 Snetterton, Norfolk. Race Report 22nd June 2014

"I like Snetterton! It's fantastic to be back on the podium"

Grid 1 1 Race 1 1 18 Laps (Fastest lap)
Grid 2 5 Race 2 2 18 Laps (Reverse grid / fastest lap)
Grid 3 1 Race 3 1 16 Laps (Fastest lap)

Conditions: Dry, Sunny.

Sam enjoyed another winning outing in the Cooper Tires British Formula 3 at Snetterton in Norfolk with Fortec Motorsport, the scene of his debut single-seater victory last year. The weekend started well, with Sam achieving both first and second fastest laps in qualifying to claim pole in races 1 and 3.

A dominant lights to flag victory in race 1 on Saturday was the perfect follow up. On Sunday Sam started from fifth in Sunday's reversed grid 18-lap race to take a second place finish and then went one better by taking his second win of the weekend in the final race to show the talent he has been demonstrating all season. Sam now stands second in the British F3 championship rankings, despite missing Round 2 last month due to a clash with his German championship commitments.

Sam MacLeod "What a great weekend. The car felt good in practice so I was able to capitalise on that, which gave me confidence as we headed into qualifying. Taking pole by over four tenths was the perfect result. I got a clean start in race 1 but then my team-mate Martin Cao started to put me under pressure until the mid-way point, when the car really came on and I had the pace to pull away. I worked hard to build a gap and managed to take a comfortable lead to win by just over two-seconds at the flag. On Sunday from fifth in the reversed grid race I made the most of the opportunities and quickly started to reel in the leaders. I caught up with the leader Camren Kaminsky in the closing laps, and we were running side-by-side into turn 1 when he spun out and I also ran wide, allowing my teammate Matt Rao to pass me. So I was OK with second. In the final race I didn't get the start I wanted owing to issues with my handbrake system. However, I kept calm because I knew I had the pace to come back, so it was a case of waiting for the race to settle down. I moved through the field and caught the two leaders, my teammates Matt and Martin, who had been in a race long battle, and when they tangled I made the move to take the lead and my second win of the meeting. It was a really encouraging weekend – two poles, two wins and three fastest laps. I would like to thank Fortec Motorsport for the opportunity and for giving me a great car, and to my sponsor Castrol for their continued support."