30 days : 9 races : 7 podiums : 4 fastest laps : 3 victories

26th May, 2014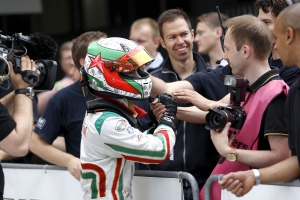 Sam MacLeod's stand out rookie debut in Formula 3 continued this weekend in round two of the German ATS Formula 3 Cup championship, with Sam securing his first championship win of the year at the 3.4km long Lausitzring near Berlin.

During the weekend the Castrol backed Van Amersfoort Racing driver secured three podium positions, taking one race win and two third place finishes. Sam now lies in a comfortable second place in the overall championship standings with six rounds to go, behind 23 year old Lotus driver Marcus Pommer.

In a highly competitive qualifying session, Sam performed well, securing the second fastest time. In the first race Sam made a strong start to move up to second and then, a move on the race leader saw him snatch the lead. When the chequered flag fell on lap 23, Sam claimed his first win of the German championship, as well as fastest lap of the race, following on from his two victories in round one of the British.

aid Sam "I was very happy with my two wins in the British Championship at Rockingham, but to follow it up with another win here is amazing, and to beat drivers with five years of experience in the category makes me feel very proud for my team and for Castrol who were bold to support me"

The reverse grid rules for the second race saw Sam start from sixth position on the grid in race 2, and it was a frantic race from the off. But Sam kept his focus and progressed to third spot and crossed the line to take the final podium position. For the third and final race of the weekend Sam had to contend with a gear selection issue which forced him to start from the back of the grid. He quickly set about making up for lost ground, and worked his way through the field to take a well-deserved third place finish and added another fastest lap time to round off his weekend.

Sam MacLeod, Racing Driver, Castrol / Van Amersfoort Racing "It is difficult to believe that my first race in Formula 3 was less than a month ago, and that this is only my second year in single seaters. Despite a good performance in qualifying I have had my work cut out this weekend, and if there was an award for most overtaking it is definitely mine! But I have to be happy with another three podiums, two fastest laps and a first German victory, and to be leaving Lausitzring in second place in the championship. I am learning more and more every race and really looking forward to the next round at Red Bull Ring in two weeks time"